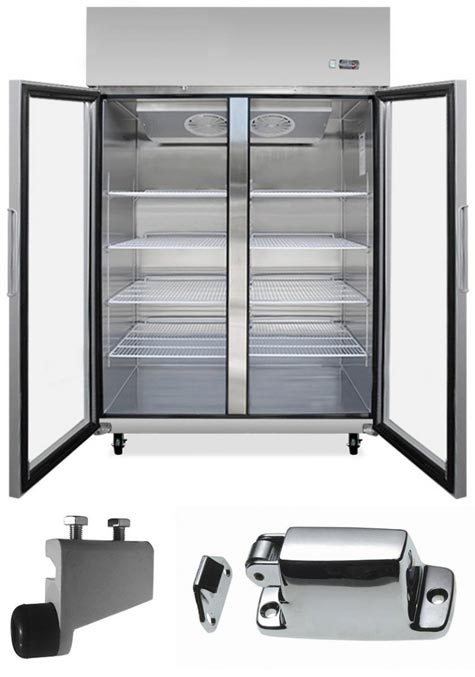 COOLROOM/ FREEZER DOORS
C & M Coolroom Services can customize and construct insulated doors to suit your specific requirements or supply them for you to install. Our doors are manufactured from budget priced basic hinged doors through to heavy duty, sliding doors for high use applications. They are designed to encompass durability, economy and appearance. Our insulated doors are perfect for walk-in coolrooms, freezers, cold storage warehouses, and food processing and distribution areas. C & M Coolroom Services supply ongoing service, repairs & maintenance for all doors, seals, handle & fittings. We are also able to supply door accessories and maintain and service all doors. C & M Coolroom Services believes that door seal is an essential asset to the Coolroom/ Freezer as it affects the efficiency resulting in excessive electricity consumption and reduced temperature efficiency.
GLASS DOORS
Used as a seal, they keep out draughts, pests, dust and continue to provide outstanding results in new applications including increased safety, hygiene, temperature and acoustic isolations properties.
COOLROOM DOORS PARTS AND SEALS
We stock a variety of coolroom hardware such as coolroom door stops, coolroom door rollers, coolroom door seals, coolroom door bells etc.
COOLROOM & FREEZER PANELS
C & M Coolroom Services specializes in supplying all kinds of panels for coolrooms & freezers varying from 50mm thickness to 150mm thickness. The standard width of the panel is 1200mm.
The various kinds of panels available are:
Standard Styrene.
High density Styrene Panel.
Urethane Panel.
Styrofoam Panel.
PIR Fire Resistance Panel.
See our eParts categories for the part you are after or contact us for a free quote.